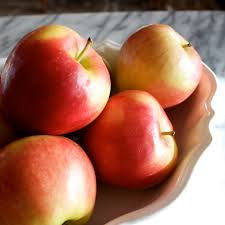 Apple, Ambrosia Eating
Ambrosia™ is a naturally occurring chance seedling found in 1990 in a cultivated plum orchard previously planted to Golden Delicious and Starking Delicious in British Columbia. Its parentage is unknown but possibly is a seedling of a cross from Starking Delicious and Golden Delicious. 
It is an attractive medium-sized apple, with a bright red blush over a creamy background. Highly regarded as a juicy but sweet apple, it has a pleasant flavour. After picking, assuming you don't eat the fruit right away, the Ambrosia benefits from being kept chilled and eaten from the fridge, to ensure peak crispness. Anyone who enjoys eating the Golden Delicious but wants something slightly different in flavour will appreciate the Ambrosia.
Trees well watered and properly cared for will have an excellent survival rate. Sorry, no guarantees or refunds. Your purchase is considered a final sale. 
Our Tree Fundraiser helps us deliver palliative care in our community and we appreciate your support. 
Ht: 3 – 5 m (10 – 15 ft);
Spread: 3 – 5 m (10 – 15 ft)
Delivered as a Bare Root tree.
Anticipated size at time of delivery is 175 cm tall.
---
Share this Product
---
More from this collection